Longwood Gardens
Impact of reforestation and forest edge "softening" on avifaunal population dynamics
Posted on 3 August 2018
Successional forest edges with young trees and shrubs is a habitat that is important breeding ground for con-specific songbirds. This habitat was created in conjunction with the relocation of a Pennsylvania (PA) State road and is now being monitored for avifaunal population dynamics to better understand the role of restoration for habitat creation.
Creating resilient ecosystems and habitats are some of the many important goals of Longwood Gardens' Land Stewardship program. With land development often creating abrupt forest edges, the successional forest edge habitat is lost. In 2011, Longwood Gardens and the PA Department of Transportation completed the relocation of PA state route 52 the intersects Longwood's property. Part of this project was reforestation of 4.5 hectare (11.1 acre) agricultural field that was adjacent to a mature forest. Over 5,500 trees of 25 different species were used for reforestation and trees had an average age of 4 years. This provided an opportunity to create a "softened" successional forest edge that is a rare and important habitat for nesting birds. Currently, avifaunal surveys are being conducted to determine species using this habitat.

The goals of the project are to determine the spatial ecology of breeding songbirds within Longwood Garden's natural areas, which in addition to the successional forest, includes 240 hectares (600 acres) of mature forests, wetlands, meadows and agricultural fields. Secondly, does softening of forest edges affect territory densities and foraging behaviour in con-specific breeding songbird. And finally, can Longwood Gardens generate prescriptive land management objectives for other land managers in the region through detailed documentation of management practices concurrent with bird studies. Preliminary data shows that avifaunal species richness is greatest in successional forest edges, followed by mature forest and is lower in meadow habitats.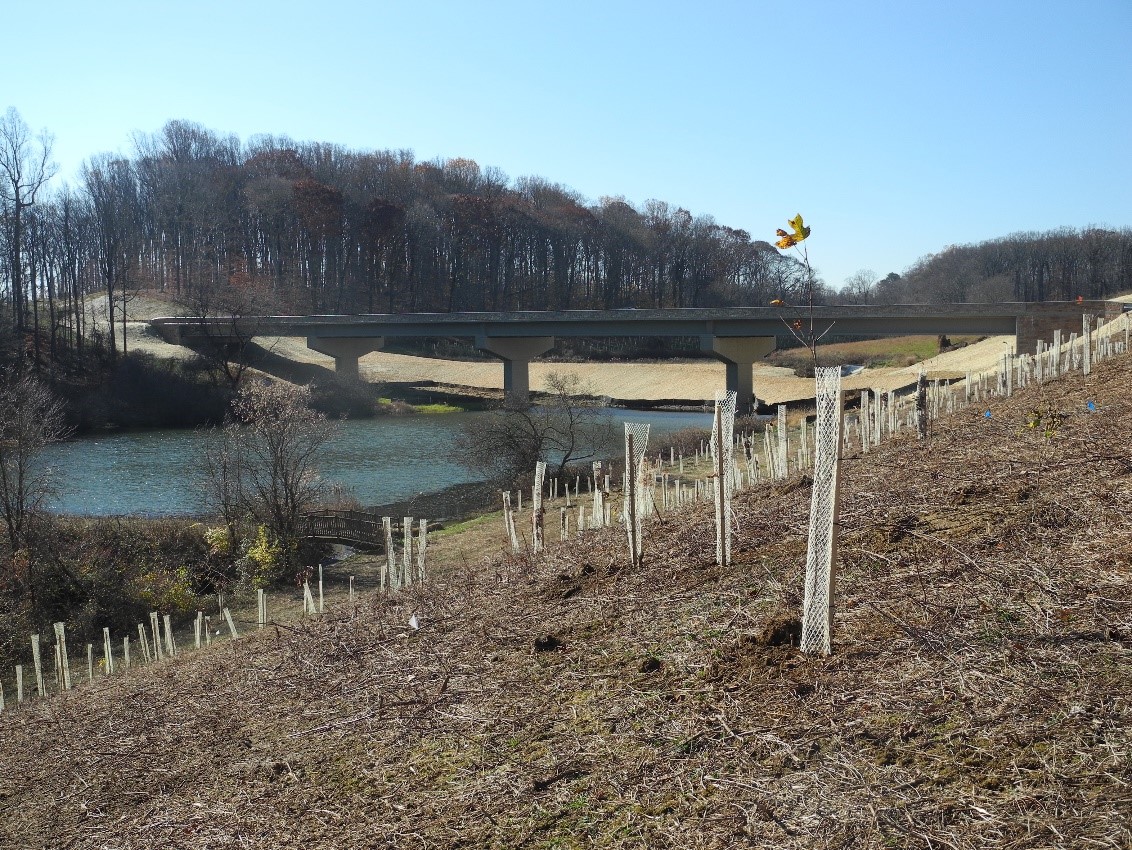 Reforested successional forest edge and in the background a new bridge for relocated Pennsylvania State Route 52.
---