Royal Botanic Garden
Community-Based Rangeland Rehabilitation, Jordan
Posted on 15 September 2016
When the Royal Botanic Garden (RBG) of Jordan was founded in 2005, it identified food security as a major challenge facing Jordan. Climate change, overgrazing, desertification and a rapidly expanding population in Jordan are combining to create huge imbalances between food security and natural resource management. To address habitat loss and food security problems at a fundamental level, the RBG set up the Community-Based Rangeland Rehabilitation project (CBRR) in 2007, starting with five families living near the RBG site. Participation rose to 38 families by 2013.

The local herding community initially opposed the creation of the RBG, when an area of land traditionally used for grazing was fenced off for the Garden. Like most unregulated rangeland areas in Jordan, the condition of the land at that time was poor, due to constant overgrazing, illegal wood cutting and picnicking. The vegetation was sparse, erosion rampant, and the soil dry and unhealthy.

The CBRR's first step was to hold meetings with community members. Local livestock owners were offered forage replacement (barley) in exchange for not grazing on the site while the RBG conducted vegetation surveys, estimated the biomass and developed sustainable stocking rates. Based on the collected data, the CBRR team established stocking rates and developed managed grazing plans that have led to a significant rise in biomass and plant diversity, and better soil conditions. The formerly overgrazed land can now bank more rainfall and retain moisture in the dry summer months, all the while allowing herders to graze their flocks inside the RBG site on a supervised basis.

The CBRR's managed grazing plans have caused a return of profuse vegetation to RBG land, along with more wildlife. The site's biomass increased by over 30% in a three-year period, as measured by biomass surveys. The number of native plant species growing wild on the site increased from 436 in 2006 to 580 in 2012, some of which have not been recorded in the area since the late 1800s.

As part of the project, local families are also learning how to earn income from sources other than herding. A dozen families have been trained to produce bee products, sun-dried yoghurt (jameed) and mushrooms. Furthermore, local women have been taught sewing and handicraft skills, which empowers them by attaining new skills. The CBRR is successfully improving the livelihood of sheep and goat herders and improving family hygiene, which has greatly decreased illness among the community. The multi-faceted activities of the CBRR have brought higher and diversified incomes for local livestock owners, community mobilization, and greater understanding of sustainable land management practices, all of which are key to achieving enhanced food security locally and throughout the country.
More information about the RBG and the CBRR project are available at www.royalbotanicgarden.org.
Within RBG, they are also developing a premaculture-based demonstration site, as part of an EU-funded project called SIDIG-MED. The project aims to restore a large tract of arid land and turn it into a productive area that teaches practical, replicable skills to local community members. Project components include growing food and useful native plants, beekeeping, natural buildings, water harvesting, solar energy and food processing techniques, among other things. As they participate, local people are earning money, learning sustainable living techniques, and becoming more aware of the need to restore the environment.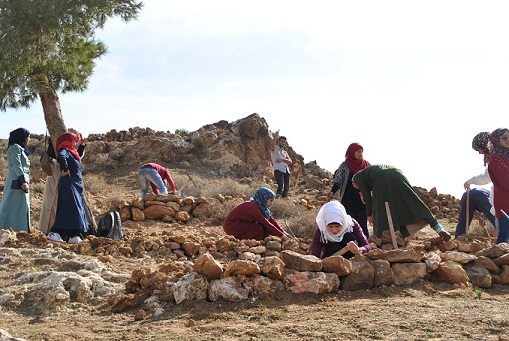 Building terraces at RBG Jordan
---