Chicago Botanic Garden
Conservation and restoration in the Colorado Plateau
Posted on 20 September 2016
Scientists and graduate students at Chicago Botanic Garden are supporting implementation of National Seed Strategy and the Colorado Plateau Native Plant Program's (CPNPP) 5-year Strategy and Action Plan to help improve restoration outcomes in a changing climate.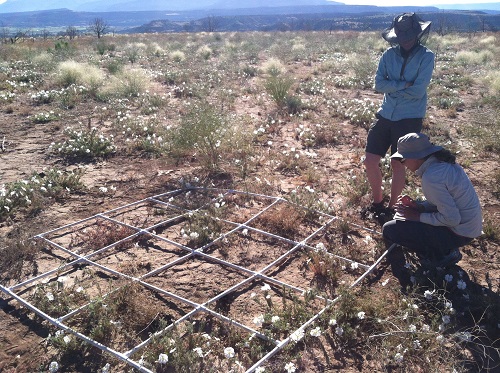 A revegetation study plot
Chicago Botanic Garden scientists are utilizing the concepts of ecological succession and evolution to identify species characteristics, species mixes, and source populations that may produce more effective re-vegetation outcomes in degraded habitat (including habitat invaded by cheatgrass and knapweed) in the Colorado Plateau. Since 2012 CBG has worked with Seeds of Success collectors, Bureau of Land Management Field Offices, the CPNPP Science Program Lead, and interns with the Conservation and Land Management program to build SOS collections of these identified species and populations (i.e. 'native winners') across the Colorado Plateau. CBG scientists are utilizing these collections for germination, greenhouse, common garden and restoration research trials. These trials serve as initial sources of information for seed growers, on propagation, cultivation, and harvesting techniques for the species, and for land managers, on which species and sources are most effective in restoration of degraded habitat. Finally, they also serve as a source of bulked seed to be used for future, larger-scale re-vegetation research.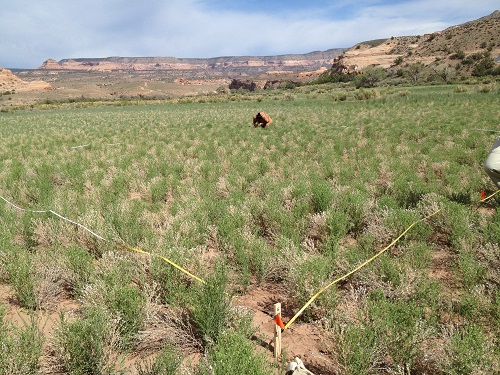 Knapweed restoration plot
CBG scientists are also working on retrospective studies of revegetation outcomes for different species and seed sources used in the Colorado Plateau over the last 10 years. Specifically, this project is: 1) identifying and make data available on seeded species and sources used in treatments via the Land Treatment Digital Library (LTDL), Utah Watershed Restoration Initiative (WRI) and other sources (including native and introduced species, as well as cultivars and source-identified seed); 2) synthesizing data to determine region-wide trends of success for different seeded species and sources used (and to determine the feasibility of more in-depth research linking seed source to revegetation seeding success); and 3) making results broadly available to land managers to support decision-making that minimizes the risk of revegetation seeding failure.
Please contact Andrea Kramer for more information about this project.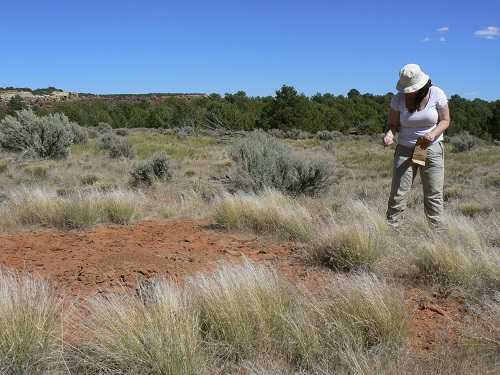 Collecting native seed
---