Utilising ERA expertise to build forest restoration capacity in Africa
12 April 2017
Yvette Harvey-Brown from BGCI reports on the latest ERA forest restoration training course held at Tooro Botanical Garden in Uganda.

Last month the latest ERA training course on tropical forest restoration was held at Tooro Botanical Gardens, an ERA member garden situated in Western Uganda. The aim of the course was to equip restoration practitioners with the knowledge and skills to improve their long-term restoration success. Twenty two participants attended the training course representing botanic gardens, NGO's and government institutions from Kenya, Rwanda, Nigeria and Uganda. Trainers from Tooro Botanical Gardens, Kadoorie Farm and Botanic Garden in Hong Kong, and BGCI, taught participants how to plan forest restoration, select appropriate native species, propagate trees from seeds and cuttings and how to monitor progress at restoration sites.
Working group session on experimental design: Gertrude Ogwok from IUCN Uganda, explains the different approaches suggested by her group that could be used to engage local communities in restoration work
Throughout the workshop, brainstorming sessions aimed to solve common barriers to achieving successful forest restoration in Africa, giving participants an opportunity to design experiments to test potential solutions and to share lessons learnt from their own restoration experience. It was suggested, for example, that the cost of clearing invasive elephant grass during the early stages of restoration, could be greatly reduced by using weed control fabric or recycled and cheaper materials such as discarded used carpet.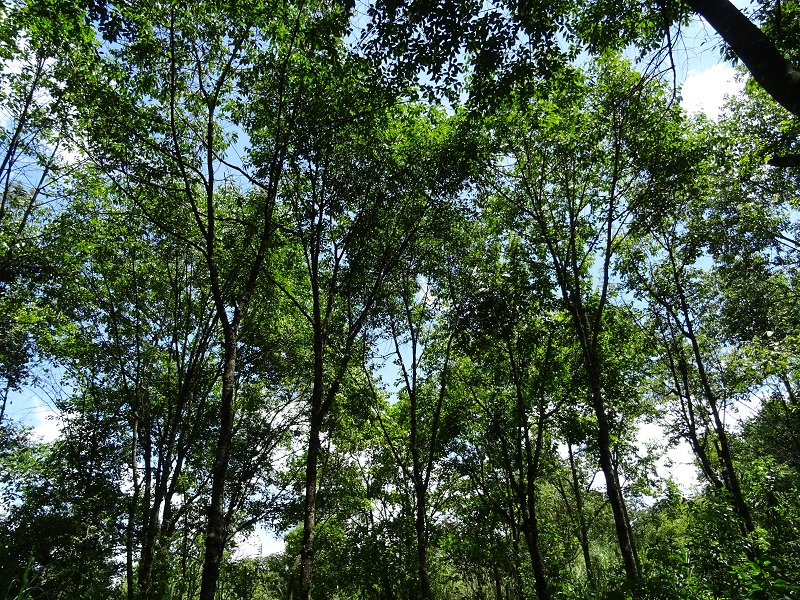 A 20 year old seed orchard at Tooro Botanical Gardens of Prunus africana, now supplies seed to restoration projects across Uganda
Tooro Botanical Gardens, whose site was previously dominated by exotic Eucalyptus trees but has been under restoration since 2000, proved to be an excellent venue for the training course. The garden hosts varying aged indigenous forest restoration sites, which were used as part of the training to demonstrate to participants what can be achieved in a relatively short period of time but also the various challenges faced. Native trees, for example, have been intercropped with leguminous vegetables that are managed by communities living adjacent to the sites to build community support for the project and reduce grazing and seedling theft. As native trees mature and out shade these crops other options are being explored, such as establishing bee hives and planting fruiting climbers such as passion fruits.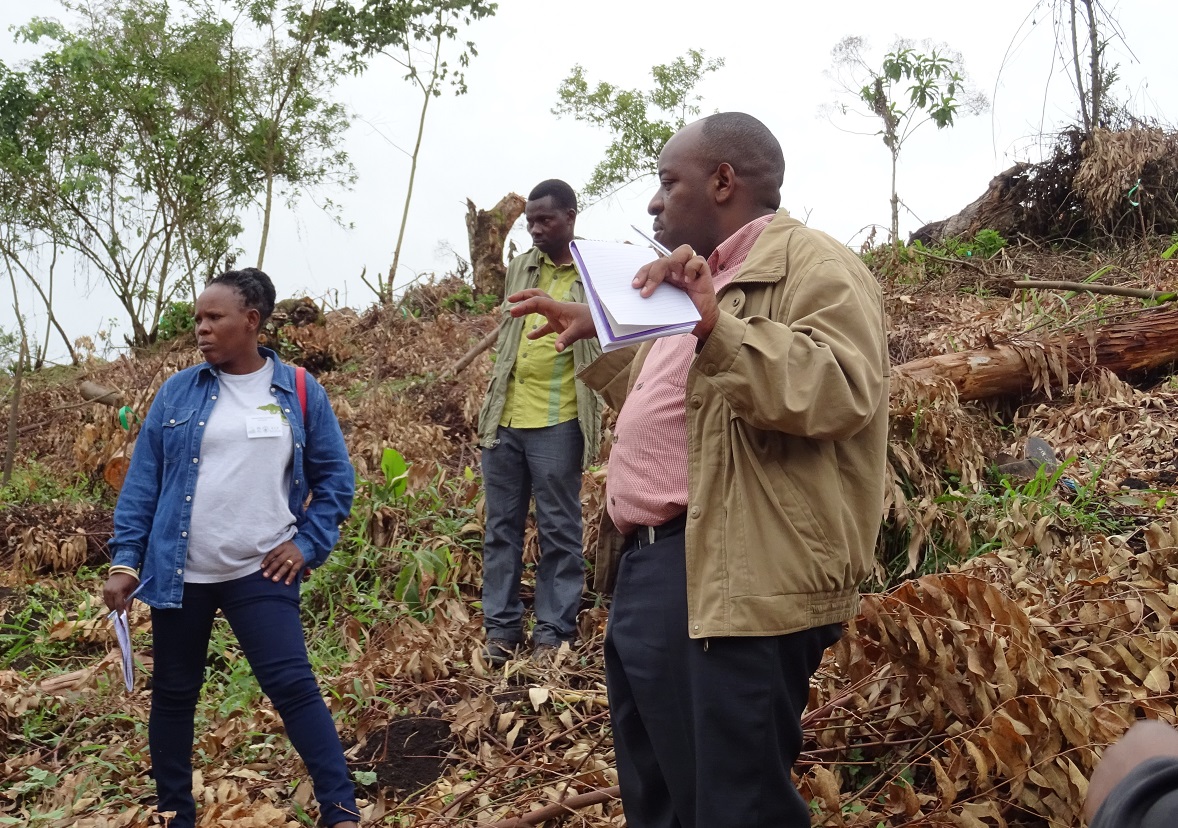 Godfrey Ruyonga, Director of Tooro Botanical Gardens (TBG), explaining how TBG is restoring a site recently cleared of Eucalyptus
Participants were also given the opportunity to visit a nearby large scale restoration project run by the organisation Face the Future in conjunction with the Ugandan Wildlife Authority in Kibale National Park. This initiative which was established in the early 90's has restored over 6,500 ha of forest and also generates income by selling carbon credits. Many of the participants attending the training course were involved in large scale restoration projects where carbon sequestration could provide a valuable long-term source of income. Ideas for how participants could integrate carbon sequestration into their restoration projects was explored in a group discussion.
The group was enthusiastic to continue to collaborate and share restoration progress in the future, which BGCI will help facilitate, by establishing a mailing list and distributing useful restoration resources.
"I have really learnt a lot about the restoration process. I'm looking forward to extending this knowledge to restore deforested areas in my country, Nigeria. I have learnt a lot about how a nursery works and we were giving a lot of simple explanations that we can easily do. Thank you BGCI for giving me this opportunity!" Rebecca Olatidoye Olaremi, Omo Biosphere Reserve, Nigeria.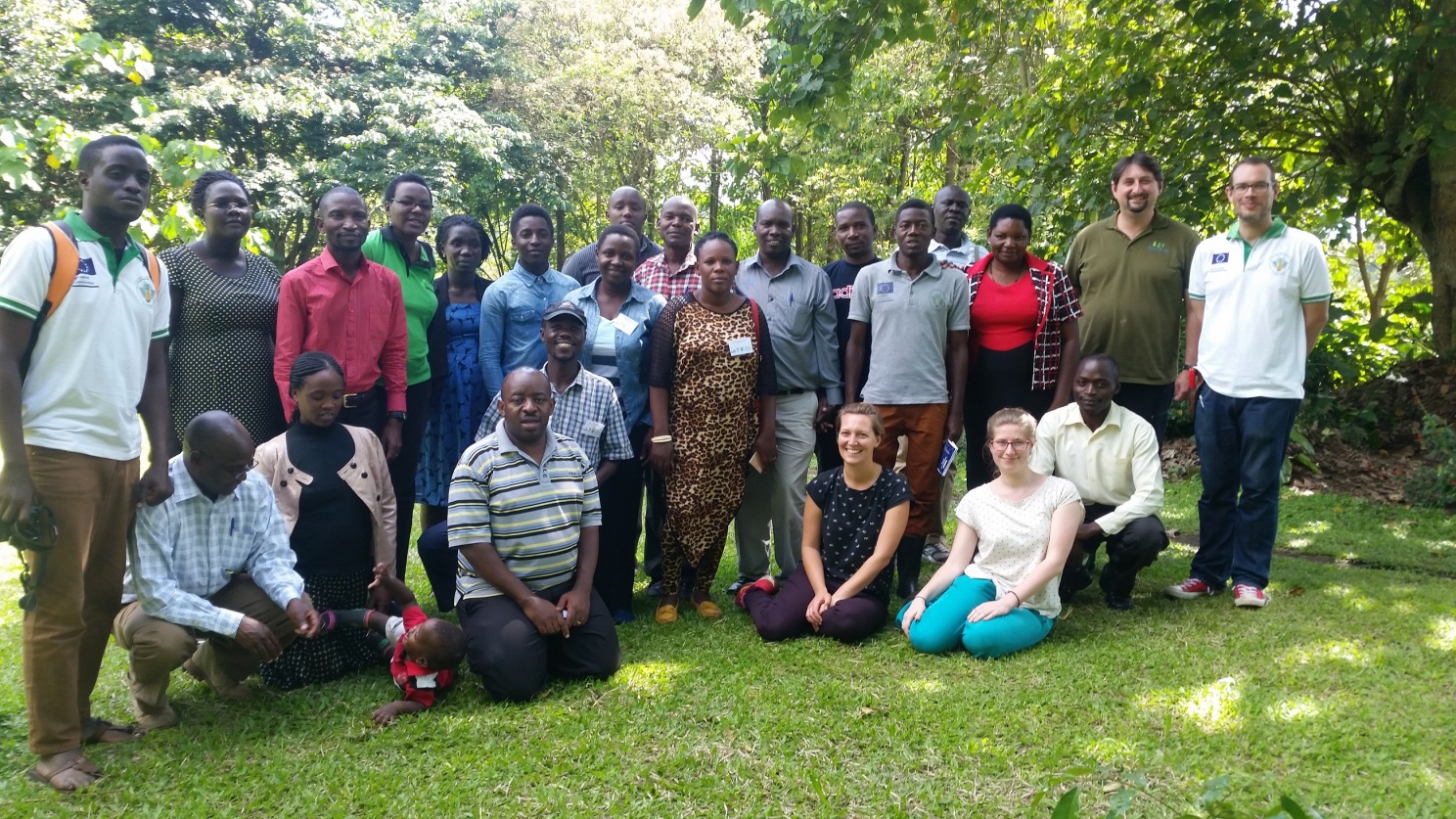 Training course participants in Tooro Botanical Gardens
This training course was funded with support from the Government of Japan through the Japan Biodiversity Fund and is part of BGCI's programme Enhancing Tree Conservation and Forest Restoration in Africa. Find out more about this programme here.
---