Join us for the next ERA public symposium in Xalapa, Mexico, 29th November 2016
26 August 2016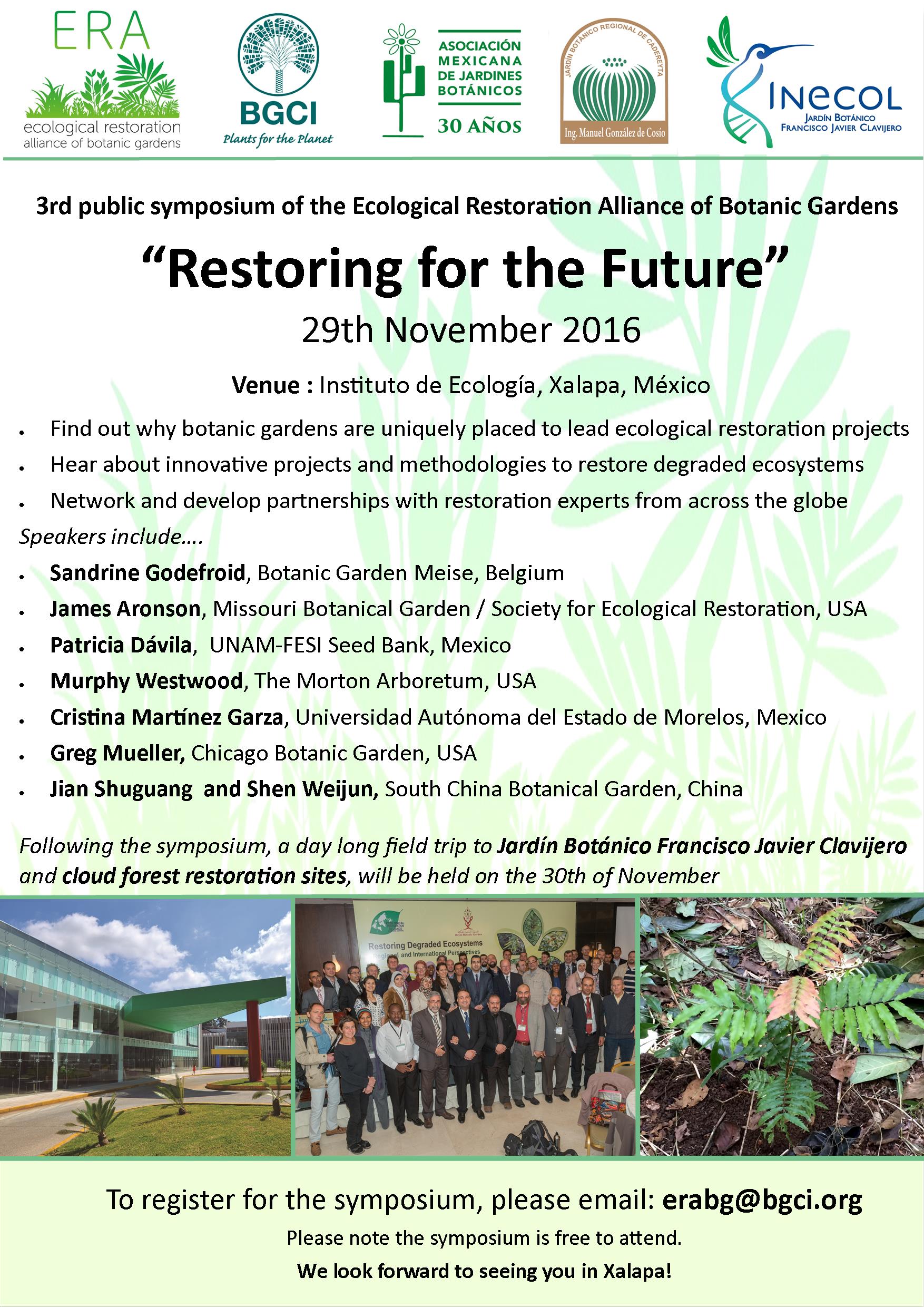 The symposium and field trip will be followed by a business meeting for ERA members.
Join us in Xalapa! Email us to register for the symposium.
The Ecological Restoration Alliance of Botanic Gardens is coordinated by Botanic Gardens Conservation International.
Read about our last public symposium in Jordan.
Please download presentation abstracts here:
Beatriz Maruri - The Cadereyta Regional Botanic Garden
A model for ecological restoration of semidesert landscapes in the state of Queretaro, Mexico
Jian Shuguang and Shen Weijun - South China Botanical Garden
Rehabilitation of degraded ecosystems and reintroduction of rare and endangered plant populations: An introduction to the ecological restoration research and practice at the South China Botanical Garden
Sandrine Godefroid - Botanic Garden Meise
Reintroductions and population reinforcements of critically endangered plant species in restored grassland habitats from Belgium
Cristina Martínez-Garza - CIByC, UAEM
Towards an Ecological Restoration Plan for Mexico
Esthela Endañú Huerta and Enrique López - Jardín Botánico Regional Carmen
Ecological Restoration Experiences in the Terminos Lagoon Flora and Fauna Protection Area, Campeche, Mexico.
Global Oak Conservation Partnership
Global Trees Campaign collaborations in support of species and habitat conservation in Mexico
Kurt Dreisilker - The Morton Arboretum
Building Capacity to Restore Ecosystems with People
Gregory Mueller - The Chicago Botanic Garden
Fungi and Restoration Initiatives
James Aronson - Missouri Botanical Garden
News from the field: botanic gardens and arboreta can help move us towards a science-based 'restoration culture'
Guadalupe Williams-Linera - Jardín Botánico Francisco Javier Clavijero
Tropical cloud forest restoration in the Clavijero Botanical Garden: from an abandoned pasture to a secondary forest to a Sanctuary
Jerónimo Reyes Santiago - Jardín Botánico, Instituto de Biología, UNAM
Reintroduction, Recovery and Protection of four species in risk of extinction in the Cañada region of Cuicatlán-Mixteca, Oaxaca. Mexico
---